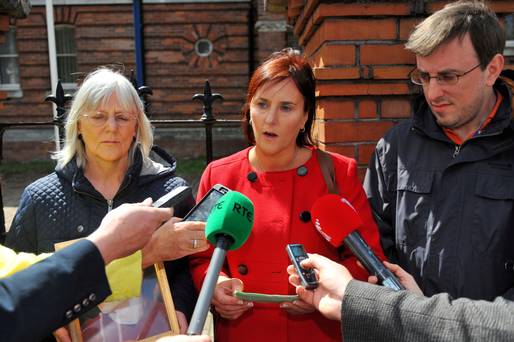 06 May

Autistic Mans Family Praise Whistleblowers After Carers Assault Conviction

The Duane family issued the appeal as they praised the courage of two unnamed women who came forward and triggered an investigation into the treatment of their 32-year-old son and brother in COPE Foundation's Cork centre.

Carer David Atkinson (41) was fined €500 in Cork District Court after being convicted of assaulting Joseph Duane (32), a COPE resident, with his foot while he was lying on the ground on October 22, 2013.
"He has lost everything from (that) error of judgment," defence solicitor Ann-Marie Sheridan said.
"He acknowledges that he should not have used his foot to prod Mr Duane to stand up."
Atkinson of Thornton Park, Whitegate, Cork, was convicted of assault despite his insistence that he only intervened to prevent injury to two residents who got involved in a confrontation.
Atkinson, a Welsh national who moved to Ireland with his wife and children, had an unblemished record in 13 years as a carer.
Judge Aeneas McCarthy noted that he should not have been on duty on his own that day in such a high-dependency unit.
The defence had argued that staffing levels were a major factor in what happened.
Judge McCarthy was told Atkinson accepts the manner of his intervention was a mistake.
The judge said Mr Duane was "a very vulnerable person" and that "greater force than was necessary" was used by the defendant. However, he said it was "a minor type of assault with no injuries".
Judge McCarthy said a custodial sentence would be disproportionate given the mitigating factors and fined him €500.
Atkinson was dismissed by COPE within 24 hours of his conviction last November and the court was told he now has "a negligible chance" of ever working as a carer again.
"It has had a cataclysmic impact on him and his family," his solicitor argued.
The Duane family said the entire incident also had "a devastating impact" on them.
His mother, Nora, attended the court case yesterday together with his sister, Marcia, and his brother, Russell.
"Joseph is a gentle person, a son, a brother and an uncle who is deeply loved," said Marcia.
"Joseph is autistic, non-verbal and a valued member of our family.
"Unfortunately Joseph has endured a lonely, sad and difficult time because those who were trusted to look after him failed him.
She paid tribute to the courage of the two ladies who spoke up on his behalf after witnessing his mistreatment.
"We can only earnestly urge all those who work in care facilities and who witness ill-treatment to report it to the gardai," added Marcia.
"The last 18 months have been a period of considerable stress and upset," she said. "We are saddened that nobody has yet apologised to Joseph or us for the pain and suffering endured.
"Today brings to an end an ongoing nightmare and we can just hope that others, like the two ladies in Joseph's case, will be encouraged to speak up for those that have no voice."
Irish Independent